As many of you know, the New Year doesn't always start January 1. In France some would argue it starts in September. In Chinatown it starts February 18. At the Paris-Paris club it was officially celebrated last night with a private party for all off the Ullmann Cabarock regulars (hey, don't blame me if you weren't invited; how many times have I told you to check out the Ullmann Cabarock bands on Tuesday night?!)

Nicolas, aka "N", introduces the evening's entertainment.
Nicolas wouldn't tell anyone who was playing, just that it was someone who usually sells out Bercy stadium. So like good acolytes we all showed up on time (for once) and the teeny club was packed by 10pm. There was an amazing woman who opened (I know her name was Anna, but I didn't catch her last name), and then Nicolas announced our surprise of the night: Mathieu Chedid, aka "M".
The superstar of the evening, "M".
Now, if you're French or listen to Le Mouv' (and you *should* if you want to hear any decent French rock music), you probably know M, since he is one of the biggest rock stars of the moment. I know most of his songs from the radio, but have to admit his Eddie Munster on Crack hairdo thing has always freaked me out a bit. Thankfully, last night he came onto stage 'au naturel' — who would have guessed such a hottie was hiding under all of that hair gel?!

"M" and Adanowsky on bass.
I have to say that the evening was probably one of the best I've had in Paris in a long time. The sound was perfect, the crowd in an ecstatic mood (rare for the cool and collected Parisians), and M was just simply fabulous. He has a really personable connection with the audience, and kept asking the light people to turn up the room lights so he could see us (keeping in mind that the club is smaller than most American living rooms). Usually the French go a tad overboard on the "emotion" when they sing, but M manages to avoid the sap trap that most fall into. By the middle of the first song the crowd was pushing so much to see (I was about two people away from the mini-stage) that I could only stand on one foot at a time. Thankfully people seemed to be smoking less than usual (we were so close people's hair would have surely caught on fire), and the concert went on for about three hours.

Dick Rivers — a calm moment before he gets everyone dancing to Hound Dog.
Other performances were by Oxmo Puccino, Arthur H, the 60s French rock legend Dick Rivers, and Adanowsky. Nicolas did one of his karaoke favorites, and finally it turned into a huge jam session towards the end, with M calling up his friends out of the audience to play (sorry, didn't catch their names). Nicolas's adorable mom even came — considering how young she looks, Nicolas must be 18! Afterwards while we were all at the bar, I saw M's girlfriend, none other than the elfin French actress Audrey Tautou (we go way back).

Puccini starts the jam session.

Adanowsky (and the famous Mr. A in neon).

There was a DJ playing for the rest of the evening, so people were dancing, but I had an early appointment, so around 4am I thought I should probably get to bed. But I lost my little coat check ticket during the night (d'oh!) and had to convince the coat check girl to let me go in and find it (she wanted me to wait until the end of the night). Thankfully I had left my metro pass (with unflattering photo) in the pocket so I could prove it was mine. They are actually very nice, the Paris-Paris staff — just make sure you're on that list for next time!!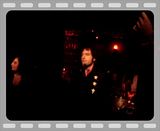 .
Video of M singing with Anna (above) and Dick Rivers singing with M and Adanowski (below).